Chicago Workers' Compensation Lawyer Fighting for Injured Workers Throughout Illinois
When you are entitled to receive workers' compensation under Illinois and federal law, getting your employer and their insurance company to act in a timely and appropriate manner can be stressful and confusing. This can include attending many informal and formal hearings just to get the benefits you deserve. Let our attorneys make sure you do not become a victim of the process, and get you what you are entitled to receive following an injury at work.
For over 65 years, the Chicago workers' compensation attorneys of Phillips Law Offices have been assisting clients who have been injured at their place of work. In addition to workers' comp cases, we also handle black lung cases as well as mesothelioma settlements.
What is Workers' Compensation Insurance Coverage?
Many employers are required to have workers' compensation insurance, which pays benefits to injured employees, covering expenses such as a portion of lost wages and medical expenses.
Workers' compensation laws are also designed to provide fixed monetary awards to employees who are permanently disabled or killed on the job.
Common Questions: How Can I File a Workers' Compensation Claim?
If you are injured on the job or suffer an illness that is a direct result of your work-related duties, you may qualify to file a workers' comp claim. Our law firm can guide you through this process from start to finish.
You are first required to report the matter to your employer who will then provide you with information on their insurer. You will be required to provide a number of documents for review by the workers' compensation claims division.
Workers' Comp FAQ: What Kind of Compensation is Available to Injured Workers?
An injured worker can receive a number of benefits from workers' comp, including the cost of medical bills and rehabilitation, along with a portion of lost wages. In some cases, the worker may be provided with additional vocational training if they are unable to return to the exact same position as a result of a disability.
Workers' comp also provides monetary benefits to the surviving family members of an individual who dies as a result of workplace injuries.
The laws that require companies to maintain workers' compensation insurance coverage are designed to:
Eliminate the time and expense of litigation;
Provide benefits for the dependent family members of  workers who die as a result of work-related accidents or illnesses;
In some instances, these laws protect employers by limiting the amount that an injured party can seek by way of compensation; and
These laws eliminate co-worker liability in many accidents.
State workers' compensation laws are slightly different from the federal laws. Generally, the federal workman's comp laws apply to employees who cross over state lines in the course of their work, such as truckers or delivery drivers.
Legal FAQ: What Are the Illinois Workers' Compensation Laws?
The Illinois Workers' Compensation Act is applicable to most employers. It requires them to provide workers' compensation coverage for their employees. Sole proprietors, business partners, and members of limited liability companies are typically exempt from being required to maintain this type of coverage, although many voluntarily choose to seek this type of insurance coverage since it reduces the company's liability.
Insurance companies and even employers have been known to utilize unfair and illegal tactics that place the injured employee at a disadvantage. Some of these tactics include:
Denying a legitimate workers' comp claim;
Discouraging an employee from seeking a second opinion;
Undervaluing a worker's losses in terms of lost wages;
Pressuring a worker to return to work before they are physically ready to do so; and
Denying any sort of responsibility for non-traumatic injuries, such as repetitive stress injuries — a type of injury that can be just as debilitating as a traumatic injury.
In addition, if your employer fails to provide insurance, you may encounter a string of proceedings that can take a long amount of time to work through. A Chicago personal injury attorney can help walk you through this process. Our Illinois wrongful death lawyers can also help you file a claim on behalf of someone who loses their life while at work.
Types of Workers' Compensation Acts Enacted by the United States Congress
The U.S. has a number of different laws that have been enacted in order to provide benefits to injured employees.
Federal Employment Liability Act (FELA);
Federal Jones Act;
Longshore and Harbor Workers' Compensation Act (LHWCA); and
Black Lung Benefit Act.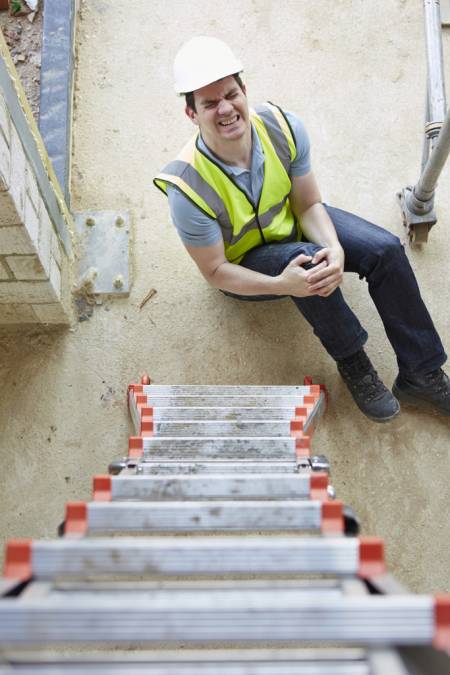 Most significantly, the Federal Employment Compensation Act provides workers' compensation for non-military, federal employees. Many of its provisions are typical of most state workers' comp laws in terms of what is covered. It is administered by the Office of Workers' Compensation Programs.
Should you or a loved one be subject to coverage under this law, one of our lawyers can advise you as to your rights, and the best way to assure you are appropriately compensated.
OSHA FAQs: What Makes a Workplace Injury OSHA Recordable?
The Occupational Safety and Health Administration (OSHA) sets forth guidelines to ensure safety in the workplace. There are a number of guidelines concerning what incidents must be recorded and reported to this federal agency.
According to OSHA, a "recordable injury" or illness is defined as one that requires medical attention beyond very basic first aid. This can include any injury that results in:
time off of work;
loss of consciousness;
death;
a change of job; or
injury or illness causing a temporary or permanent inability to perform your job.
There are some variations in terms of reporting and recording requirements. For example, some "low risk" industries are exempt, as are some companies with just a few employees. So every case is unique. Our lawyers can offer insight into this area.
How Much Will it Cost to Hire a Workers' Comp Lawyer?
The cost of hiring a lawyer to assist with your workman's compensation claim will depend upon many factors, such as the complexity of your case and the amount of time required to resolve the matter. Therefore, we recommend contacting our lawyers to discuss your case. We can provide you with a better idea of what you may face by way of legal fees.
Serving Injured Workers and Families in Illinois for Over 65 Years
The Chicago workers' compensation attorneys of Phillips Law Offices offer quality legal services to the injured and their families throughout Illinois. We will work diligently to get you the best possible outcome for your case. Black lung and asbestos attorneys are also available through our legal practice, which is regarded as one of the best law firms in the Midwest! We are known for our tenacity and bring this to every case that we handle.
Call (312) 248-0016, or contact us online today to schedule a free consultation with one of our attorneys.