Record-Setting Truck Accident Lawyers Fighting for Victims For Over 65 Years Throughout Chicago
A top-rated lawyer who will be on your side throughout the legal process.
Honest and aggressive attorney fighting for the rights of truck accident victims in Illinois.
Named by Super Lawyers as one of the best law firms in the Chicago area, and on Google, we have earned

Tomassian, Pimentel & Shapazian Law Firm

4.8

/5.0 stars – based on

34

reviews.

Our award-winning attorneys have helped Phillips Law Offices earn a rating of on Avvo, which is based on the reviews of previous clients.
An auto accident can be devastating, especially when the collision involves a large truck, as the size differential in the vehicles can cause severe and even fatal injuries. When you need a truck accident attorney to file a compensation claim to recover damages after an accident, trust a law firm with a team of experienced attorneys who have recovered millions in damages for injured clients.
The trucking accident lawyers at Phillips Law Offices are just shy of a 100% percent success rate for recovering damages in this type of auto accident. With more than 65 years of collective experience, our attorneys know what it takes to protect our clients, their rights, and their interests.
Our law practice's truck accident lawyers represent victims who have been injured in a range of different situations, from intoxicated drivers to careless and reckless truck drivers and negligent trucking companies. In many personal injury lawsuits, you may be able to name the truck driver and the trucking company as well as other parties who hold liability for your injuries. For this reason, we make it a point to carefully research and identify all parties that have contributed to an accident before filing a legal claim.
There may be more than one company involved in the operation of a truck, which makes your case even more complex. Trucking companies are usually liable for a negligent driver, which is why it's important to conduct a complete investigation of the accident.
What Causes Semi-Truck Accidents?
A trucking accident can occur due to a number of different factors. In the case of a semi-truck, you have a large, heavy vehicle that cannot stop or swerve on short notice, which means that something as simple as debris in the road can lead to a fatal accident. Trucking accidents tend to arise due to factors such as:
driver error;
an over-tired driver;
foggy conditions;
wet or icy roadways;
improperly secured load;
an over-weight cargo load;
use of drugs or alcohol; or
vehicle damage or an improperly maintained vehicle.
Many also wonder, "When do most truck accidents occur?" Generally, most truck accidents occur in poor roadway conditions, such as during rain, snow, ice, and fog. The daytime also tends to see more accidents. While there is better visibility during the daylight hours, there is also more traffic, and a large portion of truck collisions occur as a direct result of an interaction with another vehicle.
Each case is unique, so it's vital that you work with a personal injury law firm that knows how to thoroughly investigate your case and all of the circumstances surrounding the accident.
My husband and I had a very emotional case. An attorney in Decatur highly recommended Terry Quinn . We are very thankful for Terry's hard work. His dedication and knowledge was above and beyond our expectations. His writing and trial skills are truly amazing. He became our daughters voice. To watch him in the court room only proves that he deeply cares! We are eternally grateful for his success. We don't know what we have done if it were not for Terry Quinn. We highly recommend this law firm and Terry Quinn. – Tanya Derbort
What Areas of the Roadway Are Most Dangerous? 
According to a congressional report filed by the NHTSA, there are certain areas that tend to be more prone to seeing accidents. The NHTSA's findings were as follows:
More than one-third of accidents occur near intersections;
Just over 1 in 5 accidents involve a vehicle that runs off the road;
Just over 10% of accidents occur when one vehicle is stopped, such as a car stopped at a traffic light or a disabled vehicle on the side of the roadway;
About 1 in 10 accidents happen because of an improper lane change; and
9% of car crashes happen when a motorist loses control in inclement weather or due to another uncontrollable event, such as a tire blow-out.
What Information Do You Seek in a Trucking Accident Investigation?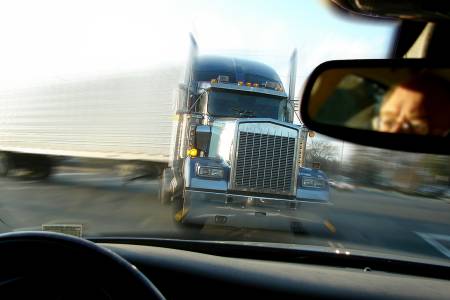 It's fairly customary for your law firm to perform an independent investigation into the trucking company and the other circumstances surrounding your accident.
A typical trucking accident investigation will involve an investigation of the tractor-trailer in question, analysis of drivers logbooks and timekeeping software, investigations of the accident scene, an investigation of drivers' drug and alcohol test record history, the driver's history of accidents, and other aspects that can clearly prove negligence in many cases.
How Much Compensation Can I Get in Trucking Accident Damages?
A trucking accident can result in very serious injuries because of the massive bulk and weight of the larger vehicle or tractor-trailer. A truck that spills or drops its load can also cause serious damage and injuries to anyone nearby. But the precise amount of compensation from a truck accident lawsuit can vary dramatically depending upon factors such as:
the severity of the accident;
the precise nature, severity, and impact of the injuries;
the extent and severity of any damage; and
any other factors that resulted in losses or injuries.
Injuries can include fractures, amputations, brain injuries, internal bleeding, and other catastrophic injuries that may lead to significant medical expenses and losses. You must also account for any temporary or permanent disability, rehabilitation, pain and suffering, lost wages, long-term care, medical care, and other damages.
The past and future losses must be calculated to arrive at a suitable compensation figure for your case. For someone who suffers relatively minor, short-term injuries, this figure may be in the thousands, whereas someone who suffers lifelong disability could be looking at figures in the multi-millions. Each case is unique so it's important to consult a top accident lawyer to discuss your case.
What Percentage of Truck Accident Cases Go to Trial?
Relatively speaking, the percentage of car and truck accident lawsuits that proceed to trial is fairly small. Many cases are settled before a lawsuit is ever filed.
Most cases are settled before going to trial. But of those that do result in a lawsuit, about half of those cases proceed to the trial phase.
Seek Help from Some of Chicago's Best Trucking Accident Lawyers
If you were injured in a trucking accident that was caused by the negligence of the truck driver, discuss filing a claim for compensation with a truck accident lawyer.  Don't trust your case to just anyone; turn to one of the most well-regarded law firms in the Midwest!
Your claim can help you recover damages that include medical expenses, lost income, disability, and other damages. Call 312-346-4262 to speak with an attorney at Phillips Law Offices and for assistance filing a claim.