Stephen D. Phillips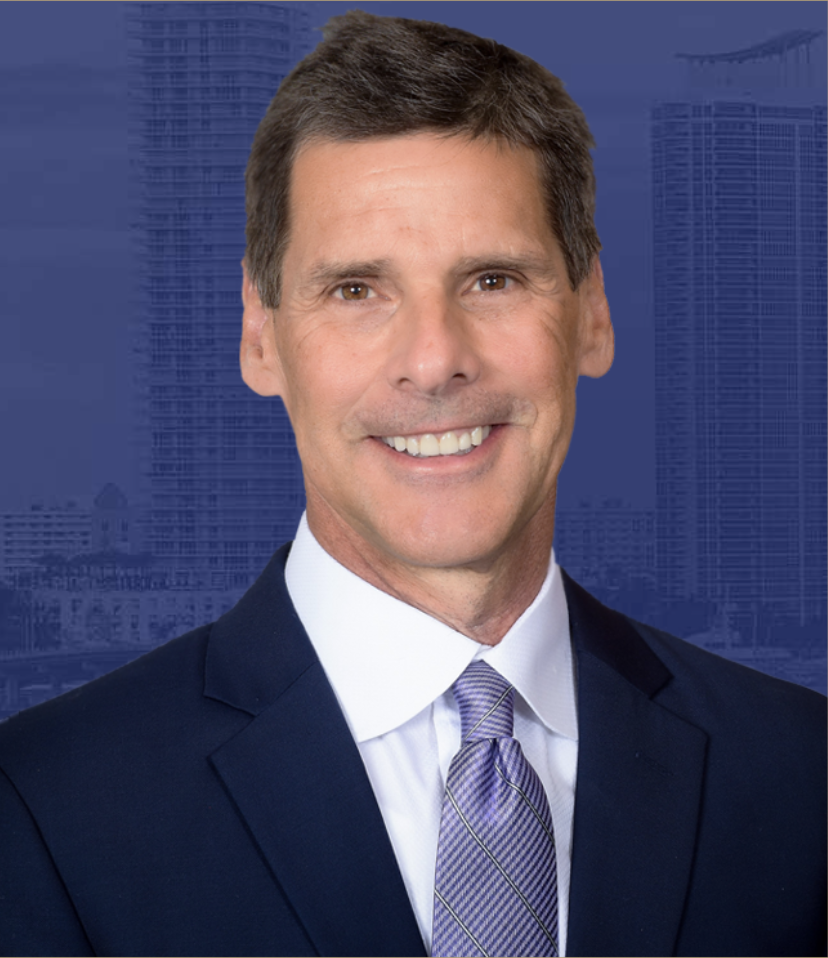 Stephen D. Phillips is the managing partner at Phillips Law Offices in Chicago. He earned his Juris Doctor from Loyola University in 1985 and his B.A. from the University of Iowa in 1981. He is an extensively published writer and sought-after lecturer on legal topics ranging from personal injury to medical malpractice to tort reform. Mr. Phillips is also the recipient of a number of awards and honors from various legal and community groups. His law practice focuses on personal injury, catastrophic injury, traffic accidents, tort law, wrongful death, nursing home and medical malpractice, aviation, construction liability, and product liability. Mr. Phillips was the 2013 President of the Illinois Trial Lawyers Association. He is also a member of, and has held a number of positions with, the Illinois State Bar Association. Additionally, Mr. Phillips has served as an adjunct professor at the Loyola University School of Law.
BACKGROUND AND CREDENTIALS YOU CAN TRUST
Stephen Phillips is admitted to practice law in Illinois, in the U.S. District Court for the Northern District of Illinois, in the U.S. Court of Appeals for the Seventh Circuit and in the United States Supreme Court. He was inducted into the International Academy of Trial Lawyers – limited to 500 attorneys worldwide – in 2011. Stephen Phillips has been designated as an Illinois Super Lawyer for 11 successive years. The National Trial Lawyers re-elected Mr. Phillips as one of the Top 100 Trial Lawyers in Illinois each year from 2008 through 2020.
Personal injury attorney Stephen D. Phillips has obtained multi-million-dollar verdicts or settlements for a long list of clients in a considerable number of automobile, medical malpractice, product liability, and personal injury cases. His experience at resolving the toughest legal issues makes him a powerfully effective advocate for injury victims throughout Illinois. Still, Mr. Phillips finds the time to serve his community as a volunteer baseball and AYSO soccer coach.
SERVING INJURED INDIVIDUALS AND FAMILIES IN ILLINOIS FOR OVER 75 YEARS
At Phillips Law Offices, we are proud of the reputation we've established and the services we provide to victims of personal injury, automobile, medical malpractice, and wrongful death. From our offices in Chicago, the personal injury attorneys of Phillips Law Offices offer the highest quality legal services to the injured and their families throughout Illinois. Obtain the experienced legal representation you need. Call (312) 346-4262, or contact us online today for a free consultation.
Contact Info:
Email address: Stephen D. Phillips
Phone: (312) 346-4262
Areas of practice
Personal injury
Tort law
Catastrophic injury
Wrongful death
Nursing home malpractice
Drug litigation
Automobile and truck accidents
Construction liability
Medical malpractice
Aviation
Products liability
Admitted to practice
Illinois, 1985
Northern District of Illinois, United States District Court, 1985
United States Court of Appeals 7th Circuit
Awards
2013 President – Illinois Trial Lawyers Association
Inducted into the International Academy of Trial Lawyers 2011. The Academy is limited to 500 lawyers worldwide.
Attorney Stephen D. Phillips named to Million Dollar Advocates Forum and Multi-Mullion Dollar Advocates Forum
AV® Preeminent™ Peer Review RatedSM by Martindale-Hubbell® (highest rating for legal ability and ethics)
2005 Illinois Trial Lawyers Association President's Award
2000–2014 Law and Leading Attorneys Statewide Survey of Lawyers,

Leading Lawyer

2005-Present

Illinois Super Lawyers

2008–2015 re-election as one of the Top 100 Trial Lawyers in Illinois by The National Trial Lawyers

Chicago Lawyer Magazine

survey for the "Most Million Dollar-Plus Settlements in Illinois" in a single year
Who's Who in Collegiate Faculty – Montclair Publishing – selected to the 2010/2011 Edition of "Who's Who in Collegiate Faculty" by Montclair Publishing.
Mr. Phillips was awarded a 'Certification of Publication' for contribution as an author for the 2015 edition Illinois Civil Practice: Opening The Case by the Illinois Institute for Continuing Legal Education.
2012 – Top Rated Lawyer. American Lawyer Media and Martindale-Hubbell
2015 – Top Ten Personal Injury Attorney in Illinois – National Academy of Personal Injury Attorneys, Inc.
2015 – Best Attorneys  of America – Rue Ratings
2015 – Trial Lawyer Excellence Award – Illinois Jury Verdict Reporter.
2017 – America's Top 100 Attorneys – Lifetime Acheivement Membership
2017 – America's Top 100 High Stakes Litigators®
2018 – The Best Lawyers in America®
2018, 2019 – Marquis Who's Who in The World
2018 – Albert Nelson Marquis Lifetime Achievement Award
2019 – 2021 – America's Top 100 Personal Injury Attorneys
Education
Juris Doctor

, Loyola University, 1985
Bachelor of Arts, University of Iowa, 1981
2006-2013 Loyola University School of Law- Adjunct Professor of Law – Illinois Civil Litigation Prior to Trial and Personal Injury Law
Bar Associations
International Society of Barristers
2020–2021 International Society of Barristers
Illinois State Bar Association
1985–1987 Member
1993–Present Member
1995–1996 Board Liaison, Young Lawyers Division
1995–1997 Board Liaison, South Suburban Bar Association
1995–1997 Board Liaison, Justinian Society of Lawyers
1995–1997 Board Liaison, Admiralty & Maritime Section
1996–1997 Board Liaison, Arab American Bar Association
1996–1997 Board Liaison, Justinian Society of Du Page County
1996–1997 Board Liaison, Tort Law Section Council
1996–1997 Member – Ad Hoc Committee for Judicial Advisory Polls
1995–1997 Assembly Member
1995–1997 Elected Governor (Cook County under Age 37)
1996–1997 Member, Standing Committee on ISBA Properties
1997–1998 Member, Standing Committee on Legislation
1999–2004 Assembly Member
Illinois Trial Lawyers Association
1984–1996 Member
1991– ____ Chairman, Expert Testimony Exchange
1992–1994 Sustaining Member
1993– ____ Elected Manager, Board of Managers
1993– ____ Member, Medical Negligence Committee
1994–2003 Co-Chairman, Publications Committee
1994–____ Contributing Member
1995–1996 Parliamentarian
1996–1997 Treasurer
1996–1997 Member, Special Advisory Committee to the Constitutional Challenge Committee
1996–____ Member, Legislative Committee
1997–1998 Executive Committee
1998–____ Editorial Board—ITLA Journal
1999–2000 Treasurer
2000 Nominating Committee for ITLA Officers
2002–2004 Executive Committee
2003–2009 Co-Chairman Medical Negligence Committee
2004–2019 Co-Chairman Publications Committee
2010 3rd Vice President
2011 2nd Vice President
2012 President-Elect
2013 President
2014 Executive Committee
2015 Executive Committee
2016 Executive Committee
2017 Executive Committee
2018 Executive Committee
2019 Executive Committee
2020 Executive Committee
2021 Executive Committee
American Trial Lawyers Association
Member Since 1985
Member, Birth Trauma Litigation Group
American Bar Association
Other Associations and Honors
Fellow – Illinois Bar Foundation (1995)
Justinian Society of Lawyers – Mentor for Mentor Program
Justinian Society Scholarship Committee
John G. Phillips Scholarship Chairman
Loyola University – Presidents Club
University of Iowa Alumni Association – Lifetime Member
Elected to Consumer Guide Book – Leading Attorneys in Illinois 1995 –present (Determined by a state-wide survey of lawyers.) Published by American Research Corporation.
International Who's Who of Professionals (1995), Published by Gilbralter Marketing
Strathmore's Who's Who Registry (1999 -2000 Edition)
Society of Trial Lawyers (1999 to present)
Illinois Network of Leading American Attorneys (2000 to present)
Recognized in the Chicago Lawyer Magazine as resolving the most million dollar plus cases than any other lawyer in Illinois in 1999 survey.
Martindale-Hubbell Rating
AV – Legal Ability Very High to preeminent.
Ethical Standards – Very High.
Highest Rating for Both
2005 Illinois Trial Lawyers Association President's Award
2004 – 2012 Law and Leading Attorneys Statewide Survey Lawyers.
Advisory Board – Top 5% of Lawyers in the State of Illinois
2005 – 2013 Recognized as an Illinois Super Lawyer in a statewide survey of lawyers.
2006 – 2008 Loyola University School of Law – Adjunct Professor – Illinois Civil Litigation Prior to Trial
2009 – 2013 Loyola University School of Law – Adjunct Professor – Illinois Personal Injury Law
2007 – 2011 Highest rating for Personal Injury Lawyer in Illinois by Avvo.com Also highest ratings for Trucking Lawyer, Brain Injury Lawyer and Birth Trauma Lawyer.
2008 – 2012 Voted Top 100 Trial Lawyers in Illinois. American Trial Lawyers Association – Now National Trial Lawyers
2010-2011 "Who's Who in Collegiate Faculty" Montclair Publishing
April 2011 Inducted as a Fellow in the International Academy of Trial Lawyers (Academy is limited to 500 lawyers worldwide.)
2012 Top Rated Lawyers Guide to Transportation Law; The American Lawyer and Corporate Counsel Magazine.
2012 Reelected as Top 100 Trial Lawyers in Illinois by the National Trial Lawyers Association.
2012 Top Rated Lawyer. American Lawyer Media and Martindale-Hubbell
2014 The Million Dollar Advocates Forum – Lifetime Member
2014 The Multi-Million Dollar Advocates Forum – Lifetime Member
2014 Top Ten Personal Injury Attorney in Illinois – National Academy of Personal Injury Attorneys
2014 Best Attorney's of America – Rue Ratings
October 2015 Trial Lawyer Excellence Award. Illinois Jury Verdict Reporter
2016 America's Top 100 Lawyers; Lifetime Achievement
2017 The Best Lawyers in America Achievement
2017 Top-Rated Lawyer – Avvo
2017 Top 100 High Stakes Litigator
2017 Top 100 Lawyer
2018 Illinois Super Lawyers
2018 Marquis Who's Who
2018 Voted Top 100 Attorney in Illinois
2018 Excellence Award Presented By US Institute of Trade & Commerce (USITC)
2019 Illinois Super Lawyers
2020 Leading Lawyers
2020 Top 1oo Lawyer – National Trial Lawyers
2020 America's Top 100 Personal Injury Attorneys – America's Top 100, LLC
2020 Marquis Who's Who in the World – Marquis Publications
2021 Marquis Who's Who in the World – Marquis Publications
2021 America's Top 100 Personal Injury Attorneys – America's Top 100, LLC
Lectures and Presentations
05/02/92 – ITLA – Young Lawyers Seminar – "Obtaining and Presenting Expert Witnesses"
09/12/92 – ITLA – Civil Practice "Update and Review Seminar" – Moderator
09/11/93 – ITLA – Civil Practice "Update and Review Seminar"– "Settlement/Kotecki Update/Confidentiality Order"
02/20/95 – ITLA – "The Nuts and Bolts of Handling Automobile Accident Cases"– "Preparing Your Case For Trial"
12/02/95 – ITLA – Medical Malpractice Seminar – "Combating Defense Tactics"
03/13/96 – CBA – Countdown to Trial – "Preparing Your Case For Trial"
09/07/96 – ITLA – Update and Review Seminar –"Structural Work Act and Construction Negligence"
11/11/96 – SBA – Trial Techniques Seminar – Getting a Case Ready; Getting A Verdict – "Opening Statements"
12/07/96 – ITLA – Medical Malpractice Seminar – "Presenting the Plaintiff's Expert for Deposition"
2/17/97 – ITLA – Maximizing results through settlement and TRIAL – "Prosecuting the Negligence Case"– Opening Statement and Closing Argument
5/3/97 – ITLA – Shot Gun Seminar – "Subsequent Remedial Measures"
9/6/97 – ITLA – Issues, Answers, and Legal Trends.

"Liens"

1/29/98 – Valparaiso Law School – Litigation – Plaintiff vs. Defense Practice
2/16/98 – ITLA – Negotiating and Settling Personal Injury Cases – "Initial Settlement Considerations"
8/14/98 – Ross and Hardies Litigation Group Lectures – "Preparing a Case for Trial"
10/19/98 – John Marshall Law School – Preparation and Trial of a Product Liability Case – Plaintiff's Perspective
12/5/98 – ITLA – "Under the Microscope: The Anatomy of a Malpractice Trial" – Jury Instructions
4/6/99 – IICLE – Modern Medical Malpractice Litigation – "Standard of Care"
10/11/99 – ITLA – Trial Techniques Seminar – Moderator
10/9/00 – ITLA – Anatomy of a Trial Seminar – Handling the Defense Experts
12/9/00 – ITLA – Medical Malpractice Seminar – Investigating the Defense Witnesses
11/29/01– IICLE – How to Depose a Doctor – Moderator
12/8/01 – ITLA – Medical Malpractice Seminar – "Cardiac Cases"
1/19/02 – ITLA – Tort Litigation: "From Intake to Verdict Seminar" – Moderator
5/21/02 – Ross and Hardies Litigation Group Lectures – "Preparing a Case for Trial"
1/18/03 – ITLA – Overcoming Juror Bias Seminar – Trial Story –"Presenting the Case"
3/14/03 – American College of Occupational and Environmental Medicine – Occupational Medicine: "Where Medicine Meets the Workplace" – How to Prepare to Testify
5/22/03 – Wilmette Rotary Club, Wilmette, "Illinois Tort Reform – What it Means"
12/6/03 – ITLA – Medical Malpractice Seminar – Obstetrics and Gynecology Malpractice.
3/11/05 – The American Association of Critical Care Nurses, Greater Miami Chapter, Miami Teaching Institute – How to Avoid the Deposition Jitters
4/7/05 – Tort Reform Debate Participant – Hellenic Bar Association
5/7/05 – ITLA – Advocacy Showcase: The Art of Advocacy – A one day Trial. Cross Examination of Plaintiff's Damage Exert Witness.
12/2/06 – ITLA – Medical Malpractice Seminar – "Crunch Time 120 Days to Trial"
6/27/08 – IICLE – Personal Injury Practice Update – "Top developments in motor vehicle cases, premises liability, product liability, governmental immunity, insurance coverage, etc."
12/6/08 – ITLA – Medical Malpractice Seminar. "Deposing and Cross Examining Defendants and Defense Experts"
2/27/09 – ISBA – Law Education Series – "Sharpen Your Trial Skills – Opening Statement"
3/28/09 – ITLA – Insurance, Liens & Settlements Seminar – "Maximizing Settlement"
12/5/09 – ITLA – Medical Malpractice Seminar. Deposition and Cross Examination of Defendants and Defense Experts

4/7/10 – University of Notre Dame – "Depositions of Defendants in Automobile Cases and Medical Malpractice Cases"

5/7/10 – ITLA – Ethics and Professionalism in Personal Injury Practice Seminar – "Client Relationship Issues"
6/23/10 – IICLE – Personal Injury Practice Update – "Emerging Issues for 2010, Jury Instruction Update"
9/28/10 – Minnesota Lawyers Mutual – 2010 Update: Preventing Legal Malpractice Claims and Ethics Complaints in Your Law Practice-Panelist
2/16/11 –ITLA –Webinar on Medical Literature
2/18/11 – ITLA – Medical Malpractice Seminar Opening Statement
4/6/11 –University of Notre Dame Law School (South Bend, Indiana): Deposition and Cross-examination of Defendants and Defense Experts.
3/5/12 – ISBA – Foundations, Evidence, and Objections Seminar – Jury Selection
3/23/12 – IICLE – Pretrial Preparation in Civil Practice Seminar – How to Chose your Case
3/23/12 – IICLE – Pretrial Preparation in Civil Practice Seminar – Developing a Prosecution or Defense Plan.
4/20/12 – Day in the life videos – a case study. 2012 Spring Symposium – The Illinois Association of Defense Trial Counsel and the Illinois Insurance Association
4/23/12 – IICLE – Illinois Civil Practice: Opening the Case
10/8/12 – ITLA – Update and Review Seminar – Evidence and Procedure
12/8/12 – ITLA – Medical Malpractice Seminar – Case selection
12/7/13 – ITLA – Medical Malpractice Seminar – Case Selection
12/6/14 – ITLA – Medical Malpractice Seminar – Cross Examination of Defendants and Defense Experts
8/24/15 – Amazing Verdicts
12/6/15 ITLA – Medical Malpractice Seminar – Jury Selection
10/22/16 – ITLA – Update & Review Seminar – Closing Argument
12/08/17 – ITLA – Medical Malpractice Seminar – Case Selection
12/10/18 ITLA – Medical Malpractice Seminar – Developing Non-Economic Damages
1/18/2020 – Rocky Mountain Trauma Society – Trauma and the Law
12/01/2020 – Featured speaker at ITLA Medical Malpractice Webinar – Topic Case Selection
1/17/2021 – A Primer on Malpractice and Insurance – Rocky Mountain Trauma Society annual meeting – virtual presentation
Publications
1993 – Proving and Disproving Damages in Personal Injury Cases
1993 –

Illinois Institute for Continuing Legal Education

. Chapter 1 — Physical Injuries – Plaintiff's Perspective
1993 – Illinois Structural Work Act Practice 1993

Illinois Institute for Continuing Legal Education

. Chapter 5 — Trial Practice – Plaintiff
1995 – Illinois Politics December 1995 – Viewpoint "Why We Don't Need a Law Prohibiting Jury Selection Consultants"
1996 –

Illinois State Bar Association Bar News

Volume 36, No. 14, February 1, 1996 – Jury Selection Consultants Are Needed
1996 – Proving and Disproving Damages in Personal Injury Cases 1996;

Illinois Institute for Continuing Legal Education

Chapter I – Supplement for Physical Injuries – Plaintiff's Perspective
1996 – Letter to the Editor, "Unethical Conduct–Allstate Insurance".

Crain's Chicago Business

, June 3 – 9, 1996, pg. 23, Vol. 19
1996 – Illinois Civil Discovery Practice, 1996

Illinois Institute for Continuing Legal Education

Chapter 2. "Limitations on Discovery"
1996 –

Illinois State Bar Association Bar News

Volume 37, No. 12, January 3, 1997 – Tort Reform Uninformed
1997 –

ITLA Edition of the Medical Malpractice Trial Notebook

– Learned Medical Treatises
1998 – Letter to the Editor, Response to "Publishers' Prerogative" on Tort Reform. Illinois Legal Times. Vol.12, No.131. March 1998
1998 –

ITLA Medical Malpractice Trial Notebook

— Learned Medical Treatises Supplement
1998 –

IICLE – Modern Medical Malpractice Litigation

— "Standard of Care"
1998 –

ITLA Trial Journal

— Lost Pension Benefits in a Wrongful Death Action – A Wrong without a Remedy
1998 –

ITLA Medical Malpractice Trial Notebook Supplement

1999 –

ITLA Medical Malpractice Trial Notebook

– Learned Medical Treatises
2000 –

ITLA Trial Journal

— The Use and Abuse of Medical Literature, Volume 2, Number 1, Winter 2000
2000 –

IICLE Practice Handbook

— Proving and Disproving Damages in Personal Injury Cases, 2000 Edition
2002 –

Illinois Institute of Continuing Legal Education

"Development of the Case on Fact and Law"
2003 –

Chicago Tribune

– Voice of the People Letter to the Editor 2/17/03. Medical Malpractice Insurance Premiums
2003 –

Chicago Sun Times

– Letter to the Editor 7-10-03 "Medical Malpractice Premiums, Legal Malpractice Premiums and Boat Insurance Premiums."
2004 –

Present Justinian Society Newsletter

"From a Plaintiff's Lawyer's Desk" – Quarterly Columnist
2006 –

ITLA Medical Malpractice Trial Notebook Supplement

2007 –

ITLA Medical Malpractice Trial Notebook Supplement

2008 –

ITLA Medical Malpractice Trial Notebook Supplement

2008 –

IICLE – Illinois Civil Practice

Vol. 1, Chapter 2, Development of the Case on Facts and Law
2011 –

ITLA Medical Malpractice Trial Notebook:

Learned Medial Treatises and Assistant Editor
2011 –

Trial Journal of the Illinois Trial Lawyers Association: Winter 2011

– Practice Tips: Cross Examination of the Expert Witness: Rutherford et al vs Kochell et al.
2012 – IICLE – 2012 Edition, Illinois Civil Practice: Opening the Case
2013 – Freeport Journal Standard and the Daily Times of Ottawa – No Title
2013 – State Journal-Register, Letter by ITLA President Stephen D. Phillips: Lawsuit abuse is a myth
2013 – The Southern, Letter by ITLA President Stephen D. Phillips: About those lawsuits
2013 – Newton Mentor Press Website, Letter by ITLA President Stephen D. Phillips: Response to "Lawsuit abuse starts with you"
2013 – Bureau County Republican, Letter by ITLA President Stephen D. Phillips: A Frivolous Defense
2013 – Belleville News Democrat, Letter by ITLA President Stephen D. Phillips: What's Frivolous is the Defense
2013 – Alton Telegraph, Response to "Group takes lawsuit abuse message to streets" by ITLA President Stephen D. Phillips
2013 – Jacksonville Journal Courier, Letter by ITLA President Stephen D. Phillips: Businesses Not That Concerned About Lawsuits
2013 – Rockford Register Star, Letter by ITLA President Stephen D. Phillips: The Real Lawsuit Abuse
2013 – Marion Daily Republican: No Title
2014 – Jacksonville Journal Courier, Letter by ITLA President Stephen D. Phillips: Judicial Hellhole Report is the Same Old Junk in New Wrapping
2014 – Chicago Tribune, Letter by ITLA President Stephen D. Phillips: Workers' Comp
2014 – Journal-Gazette & Times Courier (Charleston/Mattoon), Letter by ITLA President Stephen D. Phillips: I-LAW Group is Anti-Consumer
2014 – State Journal-Register, Letter by ITLA President Stephen D. Phillips: Dispelling Illinois' "Judicial hellhole" Myth
2014 – The Southern, Letter by ITLA President Stephen D. Phillips: Civil Justice Truth Needed
2014 – State Journal-Register, Letter by ITLA President Stephen D. Phillips: SB 3287 is not a 'trial lawyer bill'
2021 – Stephen D. Phillips and Stephen J. Phillips are plaintiff's lawyers with Phillips Law Offices. They write in response to Donald P. Eckler's March 17 Lawyers' Forum Column, "Observers should be excluded from neuropsychological exams."
Representative cases
___

v. Jeffrey Cleary, et al.

Court No.: 45D04-1105-CT-00111, recovery of $25 million
___ v. McCalla, M.D., Associated Surgical Group, and Methodist Medical Center, Case number 06 L 117. Medical malpractice. $17.5 million settlement.
___ v. Price Waterhouse Coopers, Case No. 03 L 11042, recovery of $10.0 million
___ v. Suburban Lung Associates, et. al., Court No. 02 L 04984, recovery of $7.4 million
___

v. Little Company of Mary Hospital, et al.

Court No.: 11 L 1558, recovery of $10 million
___

v. Loyola University Hospitals

, Court No. 96 L 04665, recovery of $7 million
___ v. Mercy Hospital and Medical Center, et al., Court No. 90 L 6080, recovery of $5.6 million
___ v. Watts, et. al., Court No. 93 L 04210, recovery of $5.1 million
___ v. Frezza, M.D., et. al., Court No. 02 L 008907, recovery of $5 million
___

v. Northwestern Memorial Hospital, et al.

Court No.: 10 L 004749, recovery of $5 million
___

v. Confidential Defendant, et al.

Recovery of $5 million
___ v. St. Francis Hospital of Evanston, et al., Court No. 86 L 11283, recovery of $4.25 million
___

v. FSC Paper Corp., et. al

., Court No. 00 L 6154, recovery of $4.032 million
___ v. Confidential Defendant. No suit filed, recovery of $4.1 million
___ v. Confidential Hospital, Court No. 09L14479, recovery of $4.0 million
___ v. Rush Trucking and Gary Turner et al., Court No. 97 L 5791, recovery of $4 million
___ v. Pace Suburban Bus Co., et al., Court No. 96 L 2566, recovery of $3.5 million
___ v. Metrick,Court No. 84 M4 273126, recovery of $3.45 million
___ v. Little Company of Mary Hospital, et al., Court No. 85 L 18457, recovery of $3.4 million
___

v. Confidential Defendant,

Court No. 05 L 855, recovery of $3.25 million
___ v. Stephen Behnke, M.D., et al., Court No. 02 L 002309, recovery of $3,052,283
___

v. Columbia Michael Reese Hospital, et al.

, Court No. 99 L 03453, recovery of $2.8 million
___ v. Circle W Tractor & Equipment, et al., Court No. 91 L 2014, recovery of $2.7 million
___

v. ABK Construction

,

Court No. 04 L 14157 recovery of $2.7 million
___

v. Pace

,

Court No. 01 L 012443, recovery of $2.7 million
___ v. Children's Memorial Hospital, et, al., Court No. 04 L 008717, recovery of $2.5 million
___

v. Holy Cross Hospital, et. al.,

Court No. 96 L 13007, recovery of $2.5 million
___

v. Shipley Co.,

Court No. 87 L 22709, recovery of $2.5 million
___

v. Zadeh, et. al.,

Court No. 95 L 00840, recovery of $2,425,000.00
___

v. Confidential Hospital,

Court No. 08 L 009157, recovery of $2,400,000.00
___

v. Harrison, et.al.

, Court No. 91 L 2014, recovery of $2,000,000.00
___

v. County of Cook, et al.

Court No. 06 L 013107, recover of $2,000,000.00
___

v. Confidential Defendants

Recovery of $2,000,000
___

v. Hunter, et.al.

, Court No. 02 L 16138, recovery of $1,950,000.00
___

v. Loyola, et al.,

recovery of $1,875,000.00
___

v. Moore, et al.,

Court No. 86 L 02240, recovery of $1.8 million
___

v. St. Francis, et al.,

Court No. 81 L 28974, Court No. 96 L 12855, recovery of $1.575 million
___

v. Brown, et. al.

Court No. 96 L 12855, recovery of $1.575 million
___

v. Double D Express, et al.

, Court No. 09 L 53, recovery of $1,500,000
___

v. Multack, et al.,

Court No. 08 L 004117, recovery of $1,210,000
___

v. Rush-Presbyterian-St. Luke's Medical Center,

Court No. 93 L 02134, recovery of $1.35 million
___

v. Abrams, et al.

, Court No. 01 L 05374, recovery of $1.3 million
___

v. Miczuga, et al.,

Court No. 84 L 25597, recovery of $1.25 million
___

v. 

Confidential Defendant: Court No.: 14 L 001758, recovery of $1,225,000
___

v. Gardner, et. al.,

Court #99 l 141251, recovery of $1.125 million
___

v. Rosi, et al.,

Court No. 90 L 10323, recovery of $1,085,000.00
___

v.Cohen, M.D.

, Court No. 81 L 3025, recovery of $1.1 million
___

v. Werner Troesken, et al.,

Court No. 91 L 2014, recovery of $1,090,000.00
___

v. Roseland, et al.,

Court No. 01 L 14480, recovery of $1 million
___

v. Ahmadian,

Court No. 93 L 9802, recovery of $1 million
___

v. Todd, et. al.,

Court No. 94 L 14442, recovery of $1 million
___

v. St. Joseph's Hospital,

Court No. 95 L 05838, recovery of $1 million
___

v. Clark Court

, No. 98 L 02047, recovery of $1 million
___

v. Subramanian,

Court No. 97 L 02951, recovery of $1 million
___

v. Deerbrook Medical Associates,

Court #00 L 44, recovery of $1 million
___

v. BlueSky Taxi, et al.

, recovery of $1 million
___

v. Wilson, et al.,

Court No. 08 L 010107, recovery of $1 million
___

v. Advocate Christ Medical Center

Court No.: 09 L013076, recovery of $1 million
Community service
Volunteer baseball coach
Volunteer AYSO soccer coach