Chicago Premises Liability Lawyer Fighting & Representing You in Your Premises Liability Claim
Property owners have a responsibility to make their premises safe for visitors and persons visiting their premises on business. If you have suffered injuries in an accident on someone's property, you may possibly have grounds to file a claim for compensation under Chicago laws. Speak to a Chicago premises liability attorney at Phillips Law Offices, as our law firm can help offer guidance as you move forward with filing a lawsuit for your injuries and other losses.
Personal Injury FAQ: What are Premises Liability Laws?
Premises liability laws govern property owners, who have an obligation to keep their property free of hazards that may cause injuries to visitors, customers, clients, or others.
When a person suffers an injury due to damage or dangerous conditions on another person's property, the property owner may be held liable in a personal injury claim. However, he must be able to prove that the property owner was negligent in causing his injuries. Not every injury on someone else's property is eligible for a premises liability claim. Attorneys must prove that the premises owner's negligence contributed to your injury.
Premises liability can cover a wide range of situations. For instance, you can suffer injuries on someone else's property in any one of the following ways:
Slip and fall accidents;
Elevator or escalator accidents;
Rapes and assaults;
Dog bites; and
Swimming pool accidents or drowning.
In these personal injury incidents, there is a chance that the property owner may have neglected conditions or damage that may have directly contributed to your injuries. If this is the case, then your premises liability lawyer can help you to determine if you have a viable claim.
What Kind of Compensation Can You Get from a  Premises Liability Lawsuit?
When seeking compensation for personal injury that arises from a premises liability case, you can seek compensation for many types of damages, including:
medical bills;
physical therapy and rehabilitation costs;
lost wages;
pain and suffering; and
any other losses that are a direct result of the slip and fall or other accident.
Personal Injury FAQ: What Does Premises Liability Insurance Cover?
Many property owners, including homeowners, business owners, landlords, and even municipalities may secure premises liability insurance. For businesses, the coverage tends to be more robust, whereas the coverage tends to be more limited for homeowners.
Homeowner's insurance policies include some premises liability coverage. For instance, your insurance may cover dog bites or slip and falls. Some business liability insurance plans also include premises liability coverage.
Some property owners and businesses must secure more comprehensive premises liability coverage, particularly in settings where dangerous conditions and injuries tend to be more likely.
These insurance plans cover damages up to a certain amount in the event that someone files a premises liability lawsuit against you or your business. In a large portion of premises liability cases, the settlement or judgment is paid out by an insurance company, not a private citizen.
Premises Liability Claims: How Do You Investigate a Slip and Fall or Other Injury?
When a client comes to our personal injury lawyers to discuss a premises liability case, we will work to gather a wide range of evidence and information, including the following:
securing surveillance footage of the accident;
speaking with witnesses to the accident and/or the hazardous conditions;
speaking with the property owner, business owner and/or employees; and
gathering medical records and information about your injuries.
Notably, the longer an individual delays taking action, the more challenging it becomes to win a premises liability case. For example, surveillance footage can be lost or recorded over. Witnesses may forget key facts or even move out of the area, making it difficult to find key individuals. The law also limits the time that you have to file a lawsuit for personal injury in a premises liability incident.
How to Prove Negligence in a Premises Liability Claim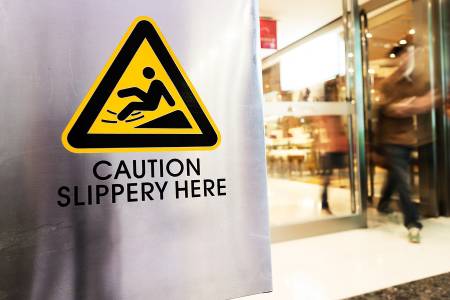 In successful premises liability lawsuits, the plaintiff's attorney must establish that the property owner failed in his duty to maintain a safe property. You typically need to prove that the property owner was aware of hazardous conditions in the property that had the potential to cause injury to visitors but did not take measures to remedy those dangerous conditions.
For instance, if a grocery store owner was aware of a broken step at the entrance of the store and realized that this damage had the potential to cause a trip and fall accident but did not get it fixed, then the shop may be liable in a premises liability claim.
However, if a customer shatters a jar, spilling liquid onto the floor and the customer suffers a slips and fall accident on the liquid within 10 seconds of the spill, then the shop owner may not be found liable since he was not aware of the dangerous conditions, nor did he have an opportunity to remedy the hazard.
If you suffered dog bite injuries when you were trespassing on someone else's property, a court may believe that you were not entirely blameless in the incident. If the courts find that the property owner could not possibly have prevented your injuries, then they may not be found liable in the case.
In Illinois, premises liability lawsuits can be challenging because you may be tasked with proving that an individual had knowledge of the hazardous conditions but failed to take action to correct that hazard.
Trust Your Premises Liability Lawsuit to an Experienced Chicago Law Firm
There are several laws that may apply when you are suing a property owner in a premises liability claim, so it's important that you trust your case to the experienced legal team at one of the Midwest's top law firms.
If you were injured in an accident on someone else's property, and you believe that the mishap was a result of the property owner's negligence, we encourage you to contact Phillips Law Offices to discuss your case with an experienced Chicago premises liability attorney. Call 312-346-4262 to arrange a free consultation so we can begin working toward filing a claim on your behalf.