Elise A. Waisbren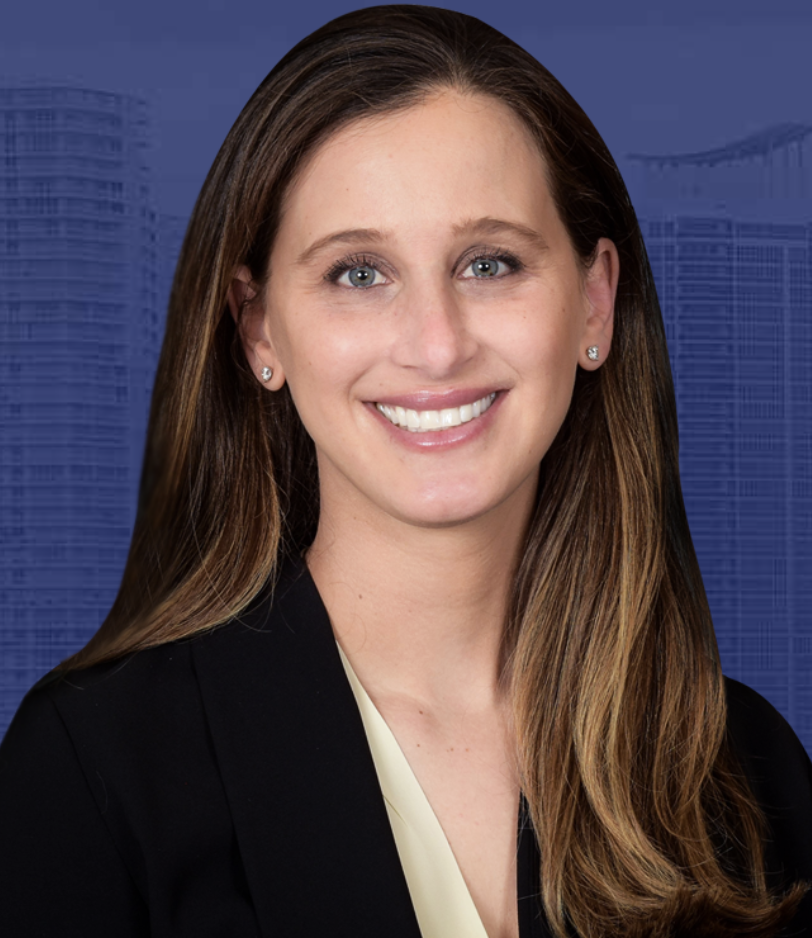 Elise is a junior partner at Phillips Law Offices in Chicago. She concentrates on cases concerning plaintiffs personal injury, medical malpractice, trucking negligence and product liability.
She has secured millions of dollars oh behalf of her injured clients against some of the largest drug companies and medical device manufacturers worldwide, and specifically in the area of women's health products.
In recognition for her outstanding legal work, Elise has been named to the Illinois Super Lawyers list as a "Rising Star" since 2015, a distinction that is limited to fewer than 2.5% of the attorneys in Illinois. Since 2016, she has been named to the Law Bulletin Publishing Company's Emerging Lawyers, an honor given to the top 2% of lawyers in Illinois who are age 40 or younger or have practiced 10 years or less. Elise is also a Board Member of the Illinois Trial Lawyers Association.
TRUSTWORTHY, RELIABLE, INSIGHTFUL
Elise takes special pride in her trial advocacy skills. In law school she was a member of Chicago-Kent College of Law's National Trial Advocacy team, ranked #4 in the country by U.S. News & World Report, and won a regional championship.
Elise is a member of the Illinois Trial Lawyers' Association, where she is honored to serve on it's Board of Managers, and is also a proud member of the American Association for Justice.
Contact Info:
Email address: Elise A. Waisbren
Phone: (312) 346-4262
Areas of Law:
Medical Malpractice
Wrongful Death
Product Liability
Automobile and Trucking Negligence
Escalator and Elevator Injuries
Accepted to Practice:
United States Court of Appeals for the Seventh Circuit
United States District Court of the Northern District of Illinois – Trial Bar
United States District Court of the Northern District of Illinois
Illinois
Professional Memberships:
Illinois Trial Lawyers' Association | Board of Managers (Present)
Illinois Trial Lawyers' Association | Co-Chair, Membership Committee (Present)
Illinois Trial Lawyers Association | Co-Chair, Young Lawyers' Division (2016-2019)
American Association for Justice
Women's Bar Association of Illinois
Awards and Achievements:
Illinois Super Lawyers Rising Star, 2015 – 2019: A Distinction That Is Limited to Fewer Than 2.5% of the Attorneys in Illinois
Illinois Leading Lawyers "Emerging Lawyer," 2016 – 2019: Those Identified by Their Peers as Top Lawyers, a Title Bestowed on Less Than 2% Off All Lawyers Licensed in Illinois
Education:
Juris Doctor, Chicago-Kent College of Law

Chicago-Kent Trial Advocacy Team

Bachelor of Arts, University of Wisconsin-Madison

President, Alpha Epsilon Phi
Representative cases:
___ v. Little Company of Mary Hospital, et al.

(2015 – Cook County), 

Medical Malpractice: 

Settlement: $10,000,000.00

___ v. Confidential Defendant

(2013 – Champaign County), 

Medical Malpractice: 

Settlement: $5,000,000.00

___ v. Confidential Defendant

(2014 – U.S. Dist. Court Northern Dist. of Illinois), 

Forklift Negligence: 

Settlement: $1,960,000.00

___ v. Weiss

(

2017

– Cook County), 

Automobile Negligence: 

Settlement: $800,000.00

___ v. Confidential Defendant

(2014 – Cook County), 

Pharmaceutical Malpractice: 

Settlement: $925,000.00 

___ v. West Suburban Medical Center et al

(2014 – Cook County), 

Medical Malpractice/Wrongful Death: 

Settlement: $800,000.00

___ v. Assured Transportation Services, Inc.

(2018 – Will County), 

Trucking Negligence: 

Settlement: $700,000.00

___ v. Confidential Chicago Big Box Retailer Defendant

(2018 – Cook County), 

Premises Liability: 

Settlement: $650,000.00

___ v. Ozinga Ready Mix Concrete, Inc

. (2016 – Cook County), 

Trucking Negligence: 

Settlement: $590,000.00

___ v. Hennessey

(2016 – Cook County), 

Automobile Negligence: 

Binding Arbitration Award: $312,138.93

___ v. Confidential Hospital

(2014 – Kendall County), 

Medical Malpractice: 

Settlement: $125,000.00

___ v. Mills

(2013 – McHenry County), 

Automobile Negligence: 

Settlement: $100,000.00 (policy limits) 

___ v. Meyers

 

(2014 – Cook County), 

Automobile Negligence: 

Settlement: $100,000.00 (policy limits)

___ v. Alyafai

(2017 – Cook County), 

Automobile Negligence: 

Settlement: $100,000.00 (policy limits)

___ v. German

(2016 – Cook County), 

Automobile Negligence: 

Settlement: $100,000.00 (policy limits)

___ v. Baella et al

(2016 – Cook County) , 

Automobile Negligence: 

Settlement: $100,000.00 (policy limits)

___ v. Confidential Defendants

(2014 – Cook County), 

Premises Liability: 

Settlement: $100,000.00

___ v. The Villa at South Holland LLC

(2015 – Cook County), 

Nursing Home Negligence:  

Settlement: $66,000.00

___ v. Casey M. Trucking, Inc., et al

(2018 – Cook County), 

Trucking Negligence: 

Settlement: $60,000.00