Highly-Skilled Construction Injury Lawyers Protecting the Rights of Injured Victims Throughout Chicago
Phillips Law Offices has been fighting for clients injured in construction site accidents for over 65 years. Our law firm deals in all areas of personal injury law and wrongful death lawsuits, including on-the-job injuries and workers' compensation cases.
Construction sites hold great potential for damage. Every year, many people are injured or killed as a result of accidents on construction sites. And, while most sites follow strict health and safety rules to ensure that these dangers are not a threat to their workers, accidents can and do happen, leading to permanent disabilities or even wrongful death.
Construction accidents can lead to profound and life-changing injuries. What's more, this type of injury can leave you unable to work at your job for a long period of time or even permanently. This makes a construction injury even more devastating in terms of its financial impact on the victim and his or her family members.
Personal Injury FAQ: What Causes Construction Accidents?
Some of the dangers from which injuries could be sustained on construction sites include:
Defective or improperly erected scaffolding;
Improper forklift operation;
Improper cargo loading and unloading due to negligence;
Trips or falls resulting from miscellaneous materials or scraps left lying around on the site;
Harm resulting from equipment that's used in an irresponsible or negligent manner;
Fires and explosions;
Injury resulting from a worker's lack of training or skill;
Improper reinforcement or bracing;
OSHA safety violations; and
Exposure to harmful chemicals or minerals such as asbestos, which can lead to mesothelioma.
These are just some of the many factors that can cause construction accidents resulting in injuries or a fatality.
What Factors Lead to a Construction Site Accident?
Construction site accidents may stem from a range of different factors, including:
Negligence by supervisors or contractors;
Negligence involving co-workers or on-site contractors;
Inappropriate behavior involving on-site workers;
Defective machinery or equipment;
Alcohol use or drug use on the worksite;
Improper handling of live electrical wires or mishaps while performing electrical work;
Negligence when it comes to the proper coordination of subcontractors;
Failure to take proper safety precautions;
Failure to fence off or restrict hazardous areas; and
Poor or improper implementation of safety measures and programs.
When a construction accident results in serious injuries or even a death, you may be eligible to make a claim for compensation for a variety of different losses, including:
Medical expenses
Loss of income
Pain and suffering
Disability
Loss of benefits
Loss of spousal enjoyment
Extended physical and emotional care
Disfigurement
What's the Proper Procedure Following a Construction Site Accident?
Immediately following a construction accident, the first and most important priority is to seek medical attention. Your health is, without a doubt, the most important factor in the equation, so it's essential that you seek immediate medical attention.
If possible, ask a co-worker to photograph and/or take a video of the accident scene before it is disturbed or altered. You should also photograph and document your injuries.
Injured construction workers must also keep a journal detailing their injuries, their progress with healing, their daily pain levels, their physical limitations, and any and all doctors' appointments and procedures. Also, make note of how those injuries impact your daily life. These are all key elements in your case when seeking compensation, whether it's by filing a workers' compensation claim, a personal injury lawsuit, or a premises liability lawsuit.
Who is Liable in a Construction Accident That Results in Injury?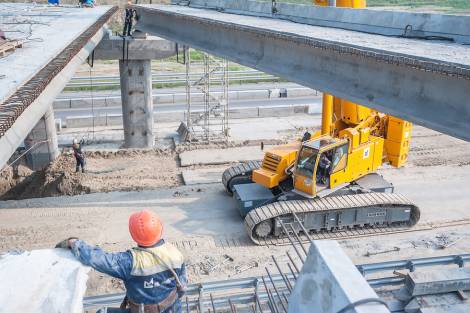 The person or company that is liable for an accident will vary according to the unique circumstances of your mishap.
The liable party may be your employer, another worker at the site, a contractor, the property owner, or a manufacturer. Our lawyers will listen to your case and determine who ought to be held accountable. In some cases, multiple companies or parties may share liability.
Do Construction Accidents Fall Under Workers' Compensation?
Construction site accidents do fall under workers' compensation laws in Illinois when the injured party suffers those injuries in the course of his or her work.
While a number of benefits can be secured by filing a workers' comp claim, including medical care and compensation for a portion of your lost wages, there are many cases where another third party also holds liability. So there are some cases where your attorney may find that a personal injury or premises liability lawsuit is appropriate and justified. Your lawyer can help you to determine the best course of action for your unique case.
What is the Cost of Construction Accidents to Employers?
As an employer, there are a number of costs associated with an accident on a construction site. Construction companies are typically required to secure workers' compensation insurance coverage, which pays out workman's comp benefits to employees who are injured in the course of their work. This expense is just a portion of the overhead that companies must cover on a monthly basis, so this cost is ultimately passed along to the consumer.
Typically, when a worker accepts workers' comp benefits, employer liability becomes limited, enabling them to avoid a lawsuit. If a company does not have this type of insurance coverage, it may be liable for any and all losses stemming from the accident, including medical bills and lost wages.
Employers do pay a price in another way: they're without a valued worker for a period of time while the injured employee recovers. They may find a temporary replacement, but this takes time — time that ultimately carries a price tag.
Our Chicago Construction Accident Lawyers Will Hold the Responsible Parties Accountable
By contacting the injury lawyers of Phillips Law Offices, you can enjoy the peace of mind of knowing that your case will be dealt with efficiently and quickly by a legal professional who is skilled and experienced in this type of litigation.
Trust your case to one of the Midwest's most well-respected law firms. Call (312) 248-0016, or contact our law firm online to arrange a free consultation to discuss your case with a construction accident lawyer.